hiveonline redefines what it means to be an independent business. You can control your own finances with confidence, and manage customer agreements or financial arrangements without the need for paperwork.  We give you a fact-based reputation, untainted by biased opinions, so your customers and lenders can see you're reliable. Small businesses everywhere suffer the same problems, so we're taking our solution to unbanked business communities in developing economies, bringing them affordable finance and trust without the need for banks or Government ID.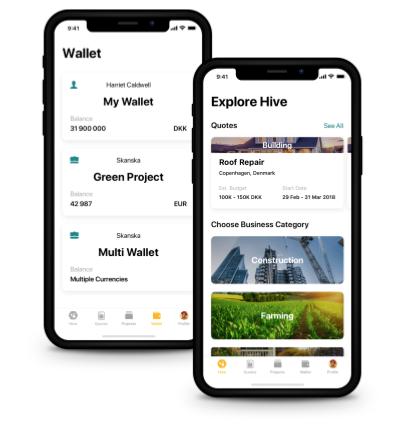 The App
Our app is built so that small business owners can manage the many areas they have to work in. It helps you to communicate with your clients, provide evidence of work completed, negotiate contracts or loans and find new clients, building a larger network, all in one place.
Your reputation score, audit trails and evidence mean that you and your clients can transfer payments through our platform with complete confidence. And the use of our advanced blockchain systems means that you can have total control over your data and the records kept within your agreements.
Our advanced reputation system that gives lenders, suppliers and customers proof of your reputability as a business basses on the fantastic work you've done and commitments you've met, rather than biased reviews.
Have a look at our Case Studies and White Papers for more details