Three weeks into TechStars and it's already proving to be a great learning experience. The first few weeks have been all about getting feedback. So far we have been engaged in finding out who can help us in one way or the other, and also who we are able to help.
Techstars is an internationally renowned programme, which every year puts over 300 startups through an intensive three month mentor-led process. Programmes are run all over the world, the network is massive, the brain capacity overwhelming.

The Berlin 2019 cohort is a diverse mix of companies solving a range of real world problems. While hiveonline is representing Scandinavia, other teams come from all over Europe as well as Israel, Russia and Australia so there is a huge breadth of backgrounds and experiences to immersed in.

But the most exciting aspect of the cohort is the level of diversity across the teams; 7 female founders, and all teams with at least one founder from some type of underrepresented group. At hiveonline, we believe that diverse teams deliver better solutions and it feels like this cohort is a fantastic environment for exactly that.
Techstars feedback madness
After a full-on first week of bonding and preparation, that passed in the blink of an eye, Mentor Madness arrived very quickly. Leveraging the power of the Techstars network, a schedule of over 80 mentor meetings was put together for each startup. Spread over 8 days and 25 minutes with each mentor, we had the chance to pitch our business, gather feedback and get advice from experts across the whole spectrum of startup skills and industries.

The chance to simply refine your pitch and messaging over 80 iterations is a powerful learning tool. However, getting copious notes and comments on specific areas have given us an even more constructive analysis of our business. Probably more than most startups receive in the first few years of operation. From specific insights into targeting our marketing and sales better, to how to communicate better with investors, we've had a lot of great comments and met many great mentors.

The process so far has been so rich with experiences and insights. Lots of mentors have commented about the strength of our team and how our mission to make the world a fairer place for small businesses with fact-based reputation has a lot of value. Where we need to focus is in getting our great product into the hands of the people who can benefit from it most. We're now refining all the feedback we've received to drive us forward on the next part of the journey.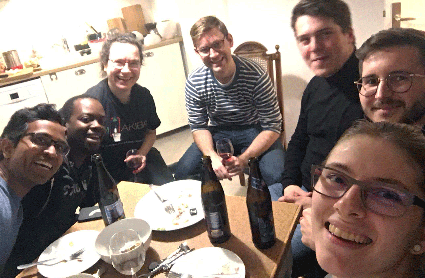 Turning madness into useful collaboration and network
Have you ever tried looking at the stars at night, trying to find constellations but not really sure where to look? The constellations are so many that it can be hard to choose which one to zoom in on.

This is what Techstars feels like. It is this big galaxy of opportunities and we have to choose which direction to explore or which black hole to look deeper into. The process needs to involve the whole team. Looking through feedback – what do the rest of the team think. Who should we talk to? Who has knowledge of marketing, reputation, industries, blockchain or whatever it is that we want to explore?

Techstars is a huge opportunity – not only to receive but to give back. Therefore it makes sense to explore ideas with each other and talk about the passions or knowledge everyone has. Hence, a big part of the evenings and lunchtimes are spent on networking and exploring the big Techstar galaxy.

We've still got 10 weeks ahead of us until Demo Day and we've got a lot to do!