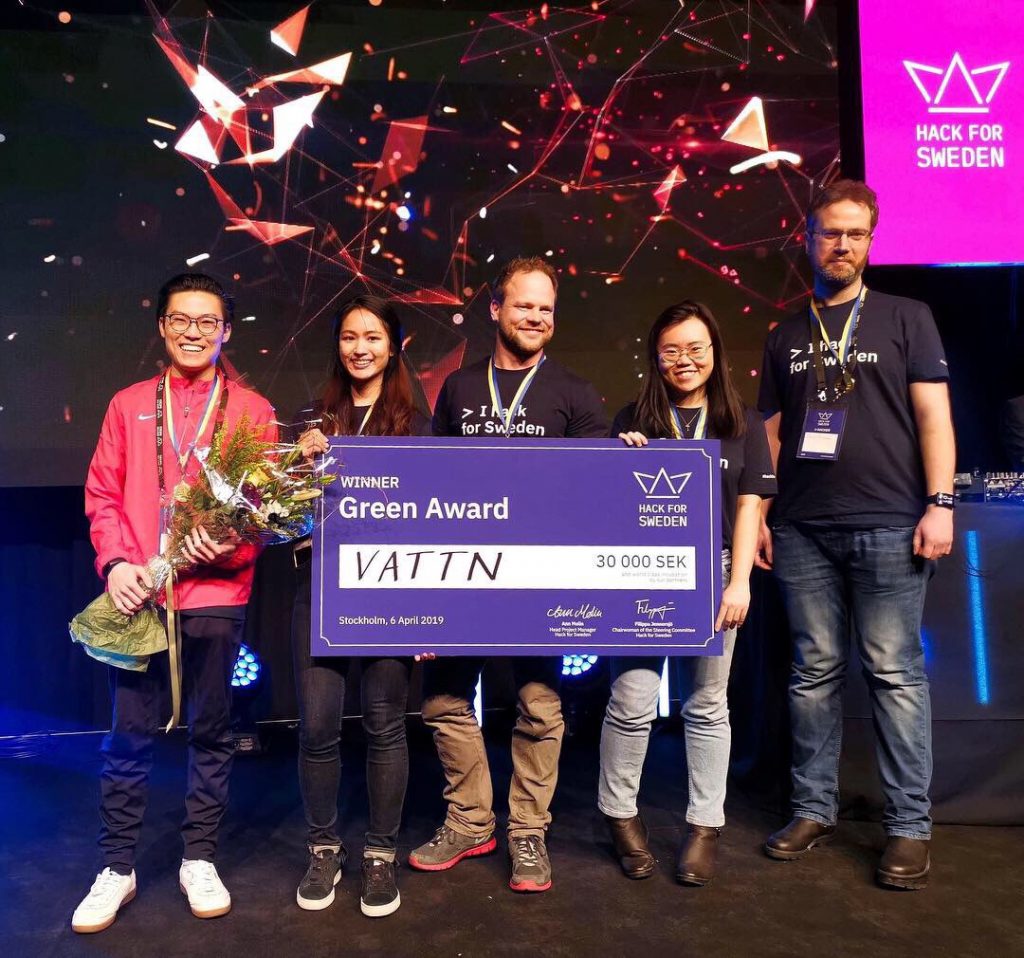 Hack for Sweden
Hack for Sweden is the biggest annual 3-day hackathon as part of Sweden Innovation Week. Hack for Sweden 2019 was all about sustainability and creating real tools for the good of our society. The overall framework for the competition was Agenda 2030 and the UN's 17 global goals. The six categories for this year's hackathon were the six most data-mature areas, identified by Gartner on behalf of the Swedish Government in 2018.
Team VATTN
Yanisa, hiveonline's Finance and Marketing Intern, attended Hack for Sweden and formed a joint Swedish and Singaporean team at the event. The team of five chose to work on the most saturated category of all – the Green category – and managed to beat the other 18 teams doing so. Their winning solution tackles the problem of clean water supply which affects many countryside areas in Sweden. Yanisa and her team made an educational groundwater dashboard for emergency preparation in the coastal and inland regions of Sweden over the 40-hours of the hackathon. Vattn (which means water in Swedish) predicts future underground water levels and provides tips on what to do in cases of drought or floods.
Here is what Yanisa has to say about her experience
"At hiveonline we strive to make sure that work and personal are two facets of each team member's life in balance; without that we forget who we are and why we exist.
This gives me the freedom to join events like hackathons, build my ideas and network, whilst still working full-time. I am immensely grateful for the wonderful support of my bosses and colleagues."

"Hack for Sweden me gave a tremendous opportunity to learn more about sustainable efforts in Sweden that I hope to be able to take back and implement in Singapore. It's truly an honour to not only take part and meet like-minded individuals but to also actually win such an acclaimed competition. This has provided me greater confidence in my ideation and execution capability, further fueling my passion and drive for entrepreneurship."

"I am passionate about sustainability which is aligned with hiveonline's goal which is to strive for sustainable solutions to the world's challenges and support the United Nations' Sustainable Development Goals as an agenda for change. I hope that in my one year here, I can learn and grow as much as possible and one day make a positive impact in the society too."

Congratulations to Yanisa for her achievement that has received press attention both across Sweden and in Singapore. We're proud to have her as a team member – she brings such great energy and dedication to her work and it's clear through this award that she shows the same passion for sustainability and impact in her everyday life.