The hiveonline platform is more than just accounting software: it is set to revolutionize community finance.
How is hiveonline Different?
hiveonline isn't the first or only organization set out to boost financial inclusion through the digitalization of village savings and loan associations. In fact, many NGOs, mobile money providers, and private firms have already developed independent solutions. So what sets hiveonline's platform apart?

The team at hiveonline has used years of experience in building financial and technology solutions for international banks. And we are now excited to be bringing this knowledge to level the playing field for community businesses and micro-entrepreneurs worldwide. We have brought these communities to the centre of our development process to create an app design based on familiar village savings and loan structures (VSLA) driven by user testing and feedback, a solution for VSLA communities by VSLA communities.
Local Development with Local Partners
To this end, the pilot version of the hiveonline community finance platform has been developed in partnership with CARE for the members of the original VSLA communities of Niger.
As the least developed country in the world, as you may imagine there is a certain amount of design adaptation required to create an app that works in places of poor connectivity, high data charges, minimal access to electricity, and low digital literacy.

Members of these VSLA communities are often considered some of the world's most vulnerable- most of the women have no formal education and limited exposure to technology. However, despite these setbacks, or perhaps because of them, they are some of the most entrepreneurial as well.
In the current app, we have taken their needs and the familiar VSLA structure and condensed them in a digital solution. The platform mirrors traditional VSLA structure and is designed to fit seamlessly into a meeting and has been introduced by field agents who have local knowledge and trust of the community.
Platform Adaptability
A key differentiation of the hiveonline platform is the ability for the frontend of the app to be redesigned for different local contexts dependent on needs, connectivity, and user feedback. In the process of designing a solution for users in Niger, we realized that design is very dependent on the local context. Solutions that may work for one country or region, may seem out of place or unintuitive in another.
Take the font size of the App for Niger as an example: after user testing, the font was increased multiple sizes, making the works look slightly awkward to a european audience. However, feedback from the VSLA members in Niger could not have been more positive. While the basic UX of the app may look a bit strange to a user accustomed to using a smartphone, it is exactly this design that makes the technology easy to pick up for VSLA members with limited experience with technology and familiarity with only feature phones.
hiveonline already supports, English, French and Swahili languages and we're going to be adding two local Nigerien languages (Hausa and Zarma) in the next few weeks. As the system has been built to be adaptable, configuring a new language is as simple as filling in a dictionary of the key terms used in the app and uploading it to our system. While the frontend of the hivonline platform is designed to be adaptable, the backend is developed on blockchain & web-technologies and is designed to be constant.
The Technology Advantage: Blockchain, KaiOS, and PWA
The current version of the community finance platform front end has been designed for the users of Niger and their specific needs.To offset low connectivity, the platform has been designed as a Progressive Web App (PWA) which has low data usage, enables localised caching of key data and updates automatically with the latest functionality when connected to the internet.
Rather than designing the UX for smart phones, we noticed that most mobile phone users in Niger were using feature phones. The platform is therefore built to integrate with these devices, as well as upcoming KaiOS feature phones which have a web-browser. The UX itself has been itself designed to keep data charges low, a key factor for sustained usage in low income areas.The hiveonline team is in the process of taking usability one step further by developing disconnected mode.
What really sets the hiveonline platform apart in the field of digital financial inclusion of VSLAs is our use of blockchain technology. By developing the backend on the Stellar blockchain, we are able to provide features for VSLA members that extend far beyond calculations during meetings and traditional group accounting. Our plan is that we extend the platform to support our own digital money at a cheaper rate than existing Telecoms providers and allow users to reduce their reliance on physical cash in their economy.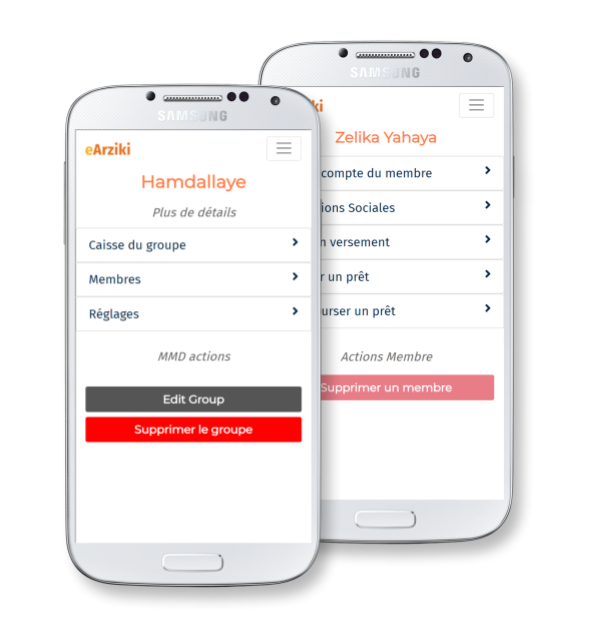 Alternative Credit Scoring & Access to Formal Lending
Here is how it works: Each time a transaction such as attendance, welfare contribution, or repayment of a loan completed by a VSLA member during a meeting, a record of that transaction is recorded to the blockchain.
Overtime, these transactions and their associated records can be used to create a trust score, reputation,and alternative credit score for both the VSLA as a group and for each member.If desired this score can be shared with traditional lenders or MFIs. For lenders, this reduces the risk of lending and cost of KYC. For VSLA members, they can now obtain loans to grow community and individual businesses.
The hiveonline blockchain backend also has the power to bring affordability to microtransactions and microloans. Built on the Stellar blockchain with a stablecoin structure, transfers out of the hiveonline network are projected to cost a mere 0.5% compared to the current cost of mobile money (3-8%) or traditional banking (even higher). Without having to physically carry and transport cash, we believe that Micro Finance Institutions can reduce the cost of their lending and expand their coverage too.
Impact focus
hiveonline is more than just a technology firm. Impact is built into our core values. We bring together our experience in banking and finance with the objective of making the world a fairer place for all small and community businesses. For this reason the hiveonline platform has been developed to assist in creating positive impacts across humanitarian outcomes but boosting access to finance for the worlds community entreprenurs.
For NGOs wanting to help their VSLA communities to take the next steps in building resilience and livelihoods, the hiveonline platform can be easily integrated into materials and training sessions already being conducted on digital literacy. The record of transactions and increased access to finance can be measured by the platform and further be used to provide built in M&E for project evaluations.
hivonline's Experience
No organization is possible without the team behind it and hiveonline is no different. And we have a team that sets us apart! Led by founder and CEO Sofie Blakstad, is a recognized leader in the field of banking transformation and author of Fintech Revolution, the hiveonline team based in the Nordics and Africa is international, inclusive and diverse. We're also advising the UN and Central Banks on Fintech and blockchain.
hiveonline's global financial services experience means that scale ability and compliance have been built in from day one. Our technical architecture is based on comparable scale able services that interact to deliver the needed functionality, across many different countries and growing easily with more users.
This also means that the hiveonline platform is not just limited to savings groups. The hiveonline platform has been developed for all aspects of community finance, with different apps all using the same robust underlying platform. Already, we have had interest from agricultural cooperatives to use the technology and are currently working to adapt our solutions for users in the cashew sector.
Want to Learn More?
We are alway looking to hear from people and organizations as passionate as we are about community finance! If you are interested in hearing more about the work of hiveonline, would like a demo of the community finance platform, or want to discuss opportunities and your experience with VSLA programs, don't hesitate to reach out to us directly here [link contact us]
We are looking forward to hearing from you and together leveling the field for community led businesses worldwide!
UPDATE: hiveonline stopped working on the CARE eArziki project in March 2020 after mutual agreement to end the partnership. While the savings group application was developed and tested, it did not go live and was not used by groups in Niger.