Leveraging Design for Low Literacy and Connectivity
Back in July, Sofie and Latif travelled to Niger for the launch of the hiveonline community finance platform in conjunction with CARE Niger. Since then, we have been hard at work developing digital VSLA solutions and incorporating feedback in product design to address the primary reason people remain financially excluded: that banks are not created for the users.
Previous article about why some people are excluded from financial systems we looked into the myriad of reasons behind why some people do not have access to financial services in Africa.
In this post we look in-depth into how hiveonline has leveraged product design and existing social structures to create services aimed to those previously overlooked by formal banking institutions in Western Africa.
Background: Existing VSLAs and the CARE Network in Niger
Founded in 1991, CARE's VSLA program in Niger, 'Women on the move' has nearly 30 years of traction and the positive effects are now spanning across generations. For many women, the VSLA program has given them the opportunity to take small loans to expand community business, pay for education, and find strength and empowerment through the income and social networks created.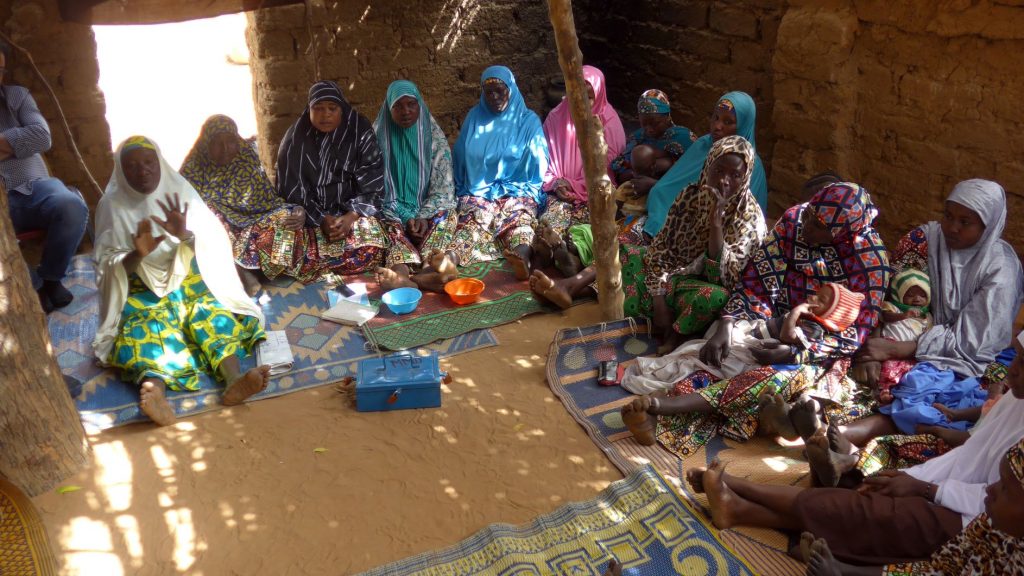 In many ways, local economies have developed around the VSLA rather than formal lending institutions. And most continue to remain outside of traditional banking. In fact, according to a 2018 report by the ILO, a staggering 89.7% of employed women in Africa are employed within the informal economy.
The productivity and economic growth of these women is not adequately captured or registered by official financial numbers or government reports which examine traditional institutions. But that does not mean there is no financial literacy or drive to run successful businesses in Niger.
In Niger, VSLAs are one of the largest financial services providers. As of July 2018 CARE VSLAs had 492.698 members in Niger alone, with current estimates at 800,000. Globally, according to the 2017 World Bank Findex database, 1 in 10 adults lacking access to formal financial services saves semi-formally in community organisations such as VSLAs.
However as VSLAs and the small business they empower have expanded, so too have their financial needs. To the detriment of both sides, a link is missing between formal financial services and VSLAs.
hiveonline community finance is designed to bridge the gap with users in mind
Increased access to electricity, mobile penetration and data availability in tandem with the evolution of blockchain and distributed ledger technology have created a vast opportunity to overcome the traditional roadblocks for financial inclusion worldwide.
Yet VSLA communities in Niger continue to face a specific set of constraints with overall adoption of digital and financial technology. Let's look into what they are and how the hiveonline team has created digital solutions.
Unfamiliarity mobile phones
The hiveonline team has developed the look and navigation of the community finance app to be both intuitive and logical for users who may have limited experience using a mobile phone, yet lots of experience being a VSLA secretary.
The design follows the established flow of a VSLA meeting: from the addition of members to buying of shares, welfare contributions, and loan repayment. The transactions and status of each member is easily traceable, creating a digital record of transactions that can be used across a savings cycle. The effect is to create increased transparency within the VSLA and establish group creditworthiness to attract formal lending for community investment.
Limited access to mobile phones
The App has been designed to function across a range of mobile devices (including feature phones, Android, and iOS) to give the VLSAs a broad scope to work with technology they already have. From an impact perspective, access to a mobile phone in a group setting provides an opportunity for VSLA members to develop digital skills, familiarity with technology, and broader financial understanding.
High Data Charges
Cognisant of high data charges throughout Niger, the design of the platform has been developed to incur minimal data costs for VSLA users while still providing the graphic functionality that make the platform intuitive.
Creating a Digital Record
Lending institutions have been traditionally wary of low-income individuals in developing countries, while the individuals themselves tend to wary of the institutions or more commonly fail to see why they would use them. One of the core principles that drives the work of hiveonline is the desire to assist VSLAs building commercial ventures, and small businesses everywhere, to grow and thrive. Transactions of the VSLA are accounted for both on the individual and group levels, giving both individual members and the VSLA the history they need to prove their creditworthiness in order to access capital for community investments. For a lender or MFI, risk of loan default is minimized by aggregation of risk on the level of the group, an established entity with a clear record of economic performance.
Flexible design for an evolving digital world
hiveonline's concept and platform are adaptable and universal. From Denmark to Niger, we address the systemic barriers which small businesses commonly face when growing their business by creation of digital tools that promote transparency and trust.
UPDATE: hiveonline stopped working on the CARE eArziki project in March 2020 after mutual agreement to end the partnership. While the savings group application was developed and tested, it did not go live and was not used by groups in Niger.